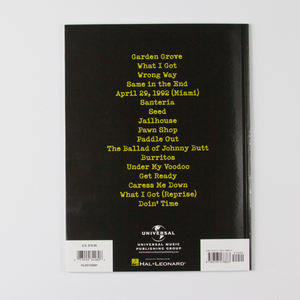 Product image 1
Product image 2
Guitar Recorded Versions Guitar - Difficulty: medium
By Sublime. Hal Leonard Guitar Recorded Versions (Authentic note-for-note transcriptions). Alternative Rock, Ska and Punk Rock. Guitar tablature songbook. With guitar tablature, standard notation, vocal melody, lyrics, chord names, guitar chord diagrams, guitar tab glossary and black & white photos. 96 pages. Published by Hal Leonard (HL.120081).
Item Number: HL.120081 
ISBN 9780793578863. 8.5x11 inches.
All 17 songs from the major label debut by this punky alt-rock trio: Burritos * Doin' Time * Get Ready * Jailhouse * Pawn Shop * Santeria * Seed * What I Got * more.