Sublime Limited Edition Magma Foil Trading Card 1 - Band Photo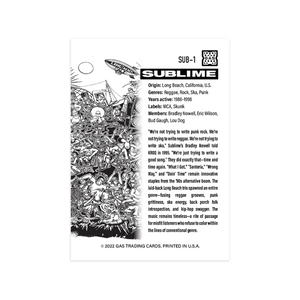 Product image 1
Product image 2
The first-ever official Sublime trading cards, in honor of the 30th anniversary of 40oz. to Freedom. 

Limited Edition: Limited to 100 Sequentially Numbered Magma Foil Cards, available first come first serve.

Card #1 features the entire group: Bradley Nowell, Eric Wilson, Bud Gaugh and mascot Lou Dog!
The cards will come sleeved in a top loader with the official GAS sticker adhered to the top.
Standard trading card size: 2.5 inches by 3.5 inches.